« Oroudat »
OROUDAT, NORTH AMERICA FREE LISTING LEBANESE AND ARAB BUSINESS DIRECTORY
« Oroudat »
Let us know how we can help you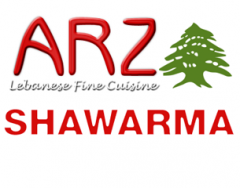 ARZ Lebanese Fine Cuisine - Ottawa
Arz Lebanese Fine Cuisine has been serving its valued customers Lebanese food since 1992 and is today considered by many as the NUMBER ONE Lebanese eatery in the Ottawa region.
Since 1992, Arz Lebanese Fine Cuisine has been providing its valued customers with nutritious delicious food with flair. It is not uncommon for someone who is not familiar with Lebanese food to receive a complimentary bite to try by the friendly and courteous staff.
As a respected corporate citizen, word-of-mouth by their valued customers has propelled Arz Lebanese Fine Cuisine as a destination of choice. Located in the St. Laurent Centre (1200 St. Laurent Blvd.), all food is prepared daily, using only the highest quality and freshest of products.
Serving the community with the highest value of food since 1992, Arz Lebanese Fine Cuisine is looking forward to serving you – our valued customers – and remain as a solid pillar for years to come, as the cedars of Lebanon have since the beginning of time.
Tel: 613-746-1015
Address : 1200 St.Laurent Blvd. Ottawa Ontario
Latest Update : Wednesday, 26 / September / 2018 - 03:55:26